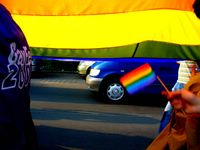 Gay Pride 2006, Bucharest, photo by Stefan Botez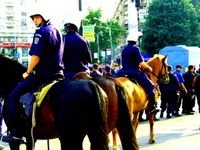 The only naked butts in the square, Gay Pride 2006, Bucharest, photo by Stefan Botez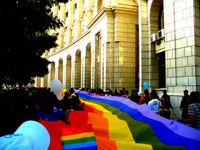 Tiny part of the flag, Gay Pride 2006, Bucharest, photo by Stefan Botez
I woke up with one though in my mind. To write about Gay Fest 2006 in Bucharest, namely about the pride march.
Because yes, there is a gay minority in Romania. Yes, there is also a lot of homophobia. And yes, that contributes to people being closeted and afraid to come out and blackmail-able.
So, once upon a time in Bucharest on 3 June, there was a peaceful march instead of gay pride. Because, you see, people were hardly proud. What is there to be proud of, when shepherd-turned-billionaire instigates football fans to lynching gays, and the Romanian Orthodox Church comes out to the patriarchal Romanian society (no, not comes out like in admitting there are gays in their own rows! you, silly!) to incriminate homosexuality like a disease and a perversion. Guys, make up your mind! Open the book, read some, you will find maybe that homosexuality has been declassified as a disease ages ago! There might be a debate about the causes for homosexuality, but it's definitely not a disease. And more than just a lifestyle. There is also a distance between a gay pride and proselytizing. Common! Think about yourselves! Could I make you be gay?!? Oh, this would be funny, if it weren't so sad.
Which brings us to gay bashing. Informal reports tell us there were a few of these cases once the parade was over and people were heading home on the subway. I have to confess that this was the part I liked the least. Somewhere, in the back of my mind, I was prepared, no, not prepared, conscious! it might be one of the outcomes, to be beaten up. This is why I had been driving my car to the end point of the march, took a taxi to the meeting point and then marched. At least I and my friends didn't GET IT. But it is unfair that somebody did get it.
Maybe I just wanted to tell you how we waved to the people on the side and some of them waved back. Yeah! this is not a Becali country only! We are not all apes, hooligans, and extremists.
And finally a word about the reports in the press and how
ACCEPT
choose to strategise communication. Well, first of all, people have to understand we are not all transvestite. They might be colorful, and fun, and repelling, but we are not all like that. Unfortunately this is almost exclusively the image brought forward by the media, and it is not even a positive stereotype. Oh, sorry! the transvestite, and orthodox ultra-nationalists and traditionalists waving the cross and the side clashes of their violent groups with the police, this is what got the attention of the media. I even read that the violences were instigated by the parade participants, which is so not true. I can only tell that the parade participants were marching and blowing their whistles and showing the rainbow flags. Nothing was shouted, nor chanted. No naked butt, no sex scenes in the public, no loud music. Hence I can only assume those who were throwing with eggs and stones (!) from the side of the parade were offended by our mere presence, not but what we were or are doing. Besides,raw eggs are tacky!
This year,
ACCEPT
's claim for the parade was "gay marriage". Not a wise choice in my view, but it doesn't matter. Any other topic would've stirred up things equally, maybe, now that I am thinking about it. So, even if I was not marching for gay marriage, I was there so that people can see me for what I am. A regular normal and, without false modesty, balanced and professionally achieved individual. I wish more of my friends and colleagues would understand how import it was for them to show their support and march the gay parade, showing to the world we are together, gay and straight, that friendship goes beyond sexual orientation. Maybe next year. I want to thank Raluca, the only straight friend who was there at my invitation, and I want to thank Oana, Mihai, Robert, Noemi, Stefan and Bryan for showing up there. I love you guys and I had a great time at the parade with you. It was a privilege to hold the flag together.